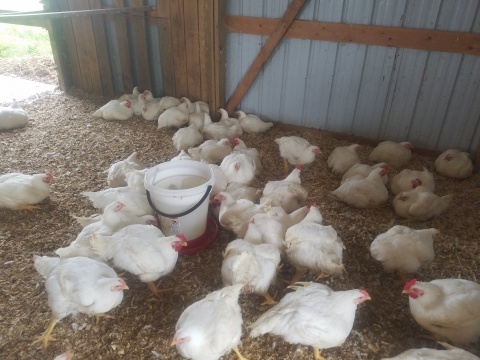 Meat Birds are primarily done for personal use or on demand. We have had many requests for pasture raised chickens in recent days. We have found the birds are healthier when raised in cooler temperatures. Our birds are raised naturally with no added growth hormones or antibiotics. The whole chickens are expected to cost about $3/lb depending on feed prices. They are healthy and delicious! Unfortunately, we are not currently raising any meat birds.
Our egg layers are happy hens! They have the run of the pastures. Eggs from chickens raised on pasture are healthier than eggs from confined chickens. Our girls have an easy life and we are rewarded with delicious, healthy eggs. A dozen eggs run $5 and usually includes brown, white, green/blue, and sometimes pink eggs. You can pick up at our farm or we meet customers in Beavercreek on most Wednesdays. Give us a call if you'll be stopping by for eggs to make sure I haven't sold out.
WE CURRENTLY HAVE NO EGGS OR MEAT CHICKENS TO SELL. SORRY FOR THE INCONVENIENCE.
The last group we raised for 83 days and the finished weights ranged from 6 to 11 pounds. At this time, we are not currently raising any chickens for meat.